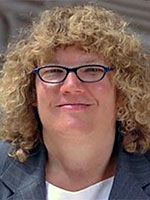 The Hilton Head Workshop is pleased to announce the Denice Denton Mentorship Award. This award recognizes long-term mentors with a proven record of mentoring researchers and engineers in the areas of interest to TRF.
The award is given in honor of Denice Denton (1959 - 2006), who earned her BS, MS and PhD in electrical engineering from the Massachusetts Institute of Technology, and then went on to a groundbreaking career in academia.
She was the first female engineer to receive tenure as a faculty member at the University of Wisconsin - Madison. At age 37 she was appointed Dean of Engineering at the University of Washington, one of the youngest as well as the first female dean of a top-ranked engineering program. While at UW, she was awarded the Presidential Award for Excellence in Science, Mathematics and Engineering Mentoring. At 45 she was selected as the Chancellor of the University of California, Santa Cruz, the youngest and the first openly gay person to be appointed as Chancellor in the University of California system.
Denton was a prolific and influential mentor who not only supported colleagues but also remedied the marginalization of those not in positions of privilege and power, using strategies she developed while surmounting daunting professional obstacles of her own. She founded and sustained informal, lively peer support groups, made connections to advocates in positions of power, sought out and shared information about institutional procedures, and even helped with fundraising for legal fees in some cases. She lived out her ideal of institutions in which people could thrive personally as well as professionally.
In a speech to the National Academies, former Dept. of Health and Human Services Secretary Donna Shalala said of Denton, "She was bigger than life. She opened doors, and stood in them to let others through."
Selection Process
Nominations are solicited from technical leaders from the public and private sectors in the areas of interest to the
TRF
. The Awards Committee will evaluate the submissions and select the awardee based on the submitted nomination package. The committee reserves the right not to issue an award in any year if a suitable nomination has not been received.
Award
Formal recognition during the Hilton Head workshop
A commemorative plaque
Honorary attendee with free registration to all future Hilton Head workshops
Nomination Package
A nomination letter, highlighting the nominee's mentorship track record (no more than two pages)
Two reference letters (no more than two pages each)
CV of the nominee
Nomination form signed by the nominee
Nomination Process
The nominees must attend the 2024 Hilton Head Workshop in person to receive the award. The nominators must submit their complete
Nomination Form (pdf)
via email to
awards@hh2024.org
by 15 March 2024.