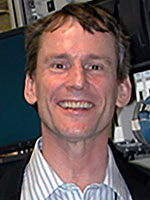 The Hilton Head Workshop is pleased to announce the Mark Shannon Grand Challenges Award. This award recognizes the long-term contributions of members of our technical community with a vision to address humanity's pressing issues.
The award is given in honor of Mark A. Shannon (1955 - 2012), who earned his BS, MS, and PhD degrees at the University of California, Berkeley, and was on the Mechanical and Systems Engineering faculty of the University of Illinois Urbana-Champaign.
Shannon was renowned for developing nanoscale, microscale, and mesoscale technologies that addressed the grand challenges of water purification and desalination, micro-fabrication, medicine, and energy production. His mission was to bring attention to and solve challenges with the world's highly vulnerable freshwater resources. To this end, he invented new micro- and nano-fabrication methods that utilize electric fields, plasmas, and chemistry to create new NEMS, MEMS, and mesoscale energetic devices and water purification systems. In particular, he was co-inventor of a "molecular gate" that can move and filter materials at the molecular level.
A pillar of our Hilton Head community, his international reputation and passion for his work was evident whether he was teaching students or testifying before Congress, and his energy and tenacity attracted others from around the world to share his vision and work to solve society's problems. By his side always was his wife Mona--the first and only love of his life--including at numerous Hilton Head meetings where she warmly created community. For those lucky enough to work with or know him, Shannon was best known for an unbridled enthusiasm for life, dedication and love for his family, and devotion to his students, even while gravely ill with amyotrophic lateral sclerosis (ALS), also known as Lou Gehrig's disease. In commemorating Shannon's passing, former UIUC Department Head Placid Ferreira shared: "A true visionary, Mark was an extraordinary person who dedicated his work and efforts to our students. He was an inspiration to all of us, and we will always remember his generosity and strength."
Selection Process
Nominations are solicited from technical leaders from the public and private sectors in the areas of interest to the
TRF
. The Awards Committee will evaluate the submissions and select the awardee based on the submitted nomination package. The committee reserves the right not to issue an award in any year if a suitable nomination has not been received.
Award
Formal recognition during the Hilton Head workshop
A commemorative plaque
Honorary attendee with free registration to all future Hilton Head workshops
Nomination Package
A nomination letter highlighting the contributions of the nominee (no more than two pages)
Two reference letters (no more than two pages each)
CV of the nominee
Nomination form signed by the nominee
Nomination Process
The nominees must attend the 2024 Hilton Head Workshop in person to receive the award. The nominators must submit their complete
Nomination Form (pdf)
via email to
awards@hh2024.org
by 15 March 2024.