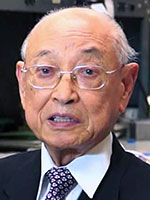 The Hilton Head Workshop is pleased to announce the Wen Ko Technical Leadership Award. This award recognizes researchers with an outstanding track-record of technical leadership and innovation in areas of interest to the TRF.
The award is given in honor of Wen Hsiung Ko (1923 - 2017), a member of the Electrical Engineering faculty of Case Western Reserve University (CWRU) from 1959 to his retirement in 1993.
A native of mainland China, Ko moved to Taiwan in the late 1940s and then to Cleveland in 1954, where he earned both his MS (1956) and PhD (1959) from the Case Institute of Technology.
An innovator in both electrical and biomedical engineering, he was a pioneer in microsensors, actuators, integrated microsystems, medical implants, telemetry and packaging. His body of work on physical and chemical (gas) microsensors in the early 1970s is one of the earliest efforts in the field. In the mid-1960s, his group demonstrated the first implantable muscle control system in living subjects.
A light to generations of young engineers, he advised more than 150 MS and PhD students. He established and led the Electronics Design Center at CWRU and was a Fellow of IEEE Biomedical Engineering Society and the American Institute of Medical and Biological Engineering. He was one of the founders of the Transducers Research Foundation and the Hilton Head Workshop series and served as TRF president from 1987 to 2004.
After retirement, Ko remained a research-active emeritus professor for another 11 years, serving as PI on an NIH R21 grant at the age of 89! Ko's children noted, "His spirit and intellect continued to be strong and curious up to the end."
Selection Process
Nominations are solicited from technical leaders from the public and private sectors in the areas of interest to the
TRF
. The Awards Committee will evaluate the submissions and select the awardee based on the submitted nomination package. The committee reserves the right not to issue an award in any year if a suitable nomination has not been received.
Award
Formal recognition during the Hilton Head workshop
A commemorative plaque
Honorary attendee with free registration to all future Hilton Head workshops
Nomination Package
A nomination letter highlighting the contributions of the nominee (no more than two pages)
Two reference letters (no more than two pages each)
CV of the nominee
Nomination form signed by the nominee
Nomination Process
The nominees must attend the 2024 Hilton Head Workshop in person to receive the award. The nominators must submit their complete
Nomination Form (pdf)
via email to
awards@hh2024.org
by 15 March 2024.