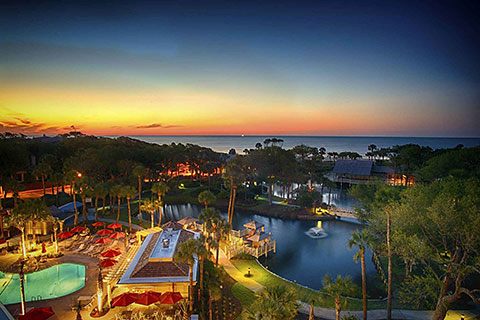 Weather
The average high and low temperatures in June:
High: 87°F/31°C
Low: 70°F/21°C
Activities
Its breathtaking natural beauty is just one of the reasons Hilton Head Island is considered to be one of the finest resort communities in the United States. Twelve miles of sandy white beaches, brilliant green salt marshes, rivers, and stately maritime forests under a canopy of bright Carolina-blue skies provide the perfect environment for an unforgettable vacation. Against nature's spectacular backdrop, you will enjoy the hospitality and heritage of the South combined with the rich diversity of friendly people.
Whether you want to take a few strokes off of your golf game, improve that slicing backhand on the tennis court, or just relax by the shore, Hilton Head has it all. One of the largest islands on the East Coast, Hilton Head is perfect for families and individuals who are looking for a large resort area with an array of activities to enjoy.
The island offers a wide variety of recreational activities, including biking along the beaches and on countless trails, rollerblading, and numerous water activities. Go sailing, kayaking, and enjoy the different types of fishing. Or take a dolphin nature cruise, fireworks sunset cruise, or a sport-crabbing cruise. In addition to the award-winning dining and great shopping, you can golf at more than 30 courses, and play on any of 300 tennis courts. Whatever you choose, there is hardly a dull moment to be had in Hilton Head.
Explore Hilton Head
Outside Hilton Head
A Culinary Tour...